33rd European Symposium on Reliability of Electron Devices Failure Physics and Analysis (ESREF 2022)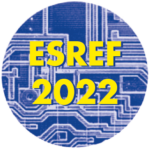 ESREF 2022, the 33th European Symposium on Reliability of Electron Devices, Failure Physics and Analysis, will take place in Berlin (Germany) from 26th to 29th September 2022 at the H4 Hotel Berlin Alexanderplatz. This international symposium continues to focus on recent developments and future perspectives in quality and reliability management of materials, devices and circuits for micro-, nano-, and optoelectronics. It provides a European forum for developing all aspects of reliability management and innovative analysis techniques for present and future electronic applications.
What makes ESREF 2022 a great opportunity for you? Here are just some of the many reasons:
The conference will start on Monday afternoon with three keynotes from different areas of the electronics industry (ZVEI, KLA, ST Microelectronics). This will be the ideal start to learning about future trends and re-search fields concerning the reliability of microelectronics. You will have ample time to discuss these during the exhibition's opening event, and you may encounter promising ideas and opportunities for your next re-search proposal. The exhibition will give you the opportunity to discover the latest innovations and products in analysis equipment and services.
We have put together a high-class program with presentations covering innovative research on the failure mechanisms of electronics by failure analysis, measurement, characterization, and modelling. The focus of the program is on device, package, and system-level reliability for different applications. Please see our program for more details. Please check out our programm.
In addition, three tutorials on modern reliability concepts, model-based reliability analysis and the influence of cosmic radiation will be held on September 26. You can find more information about the tutorials here.
PhD students can not only attend the ESREF conference but also, for an additional fee, the APPLAUSE Heterogeneous Integration Summer School, which will take place on September 29-30.
We are delighted to welcome exhibitors from all over the world who will be showcasing their services and products at ESREF 2022. Discover the exhibitors presenting their products and innovations at ESREF 2022.